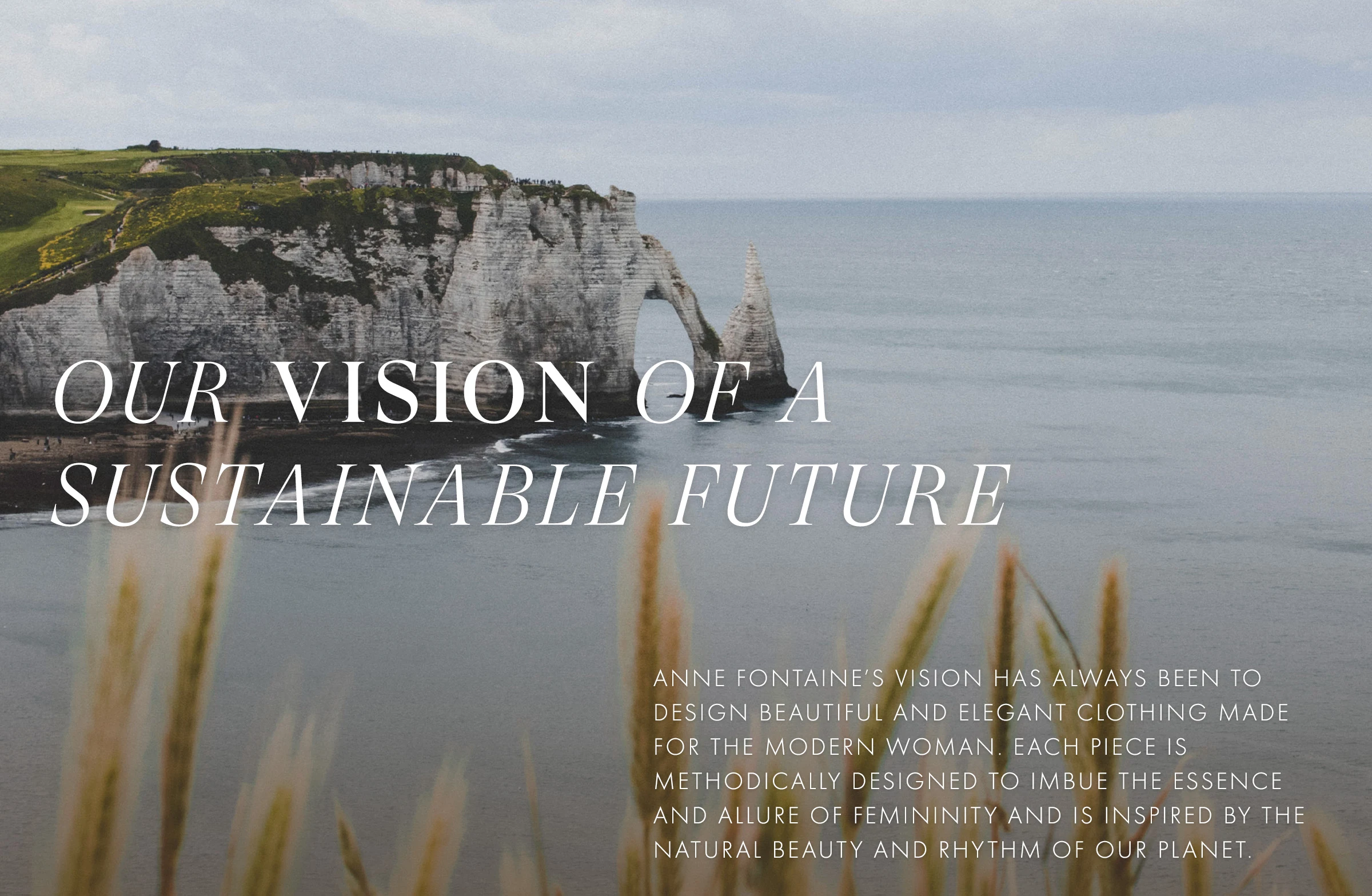 Since the beginning, Anne Fontaine's vision has always been to create sophisticated and beautiful clothing for the modern woman.
Each piece is methodically designed to imbue the essence and allure of femininity and is constantly inspired by the natural beauty and rhythm of our planet.
We believe it is our responsibility to understand the environmental and social impacts of our decision-making.
We are dedicated to creating an environmentally conscious culture, and to ensuring our products and practices do not negatively impact biodiversity or climate change.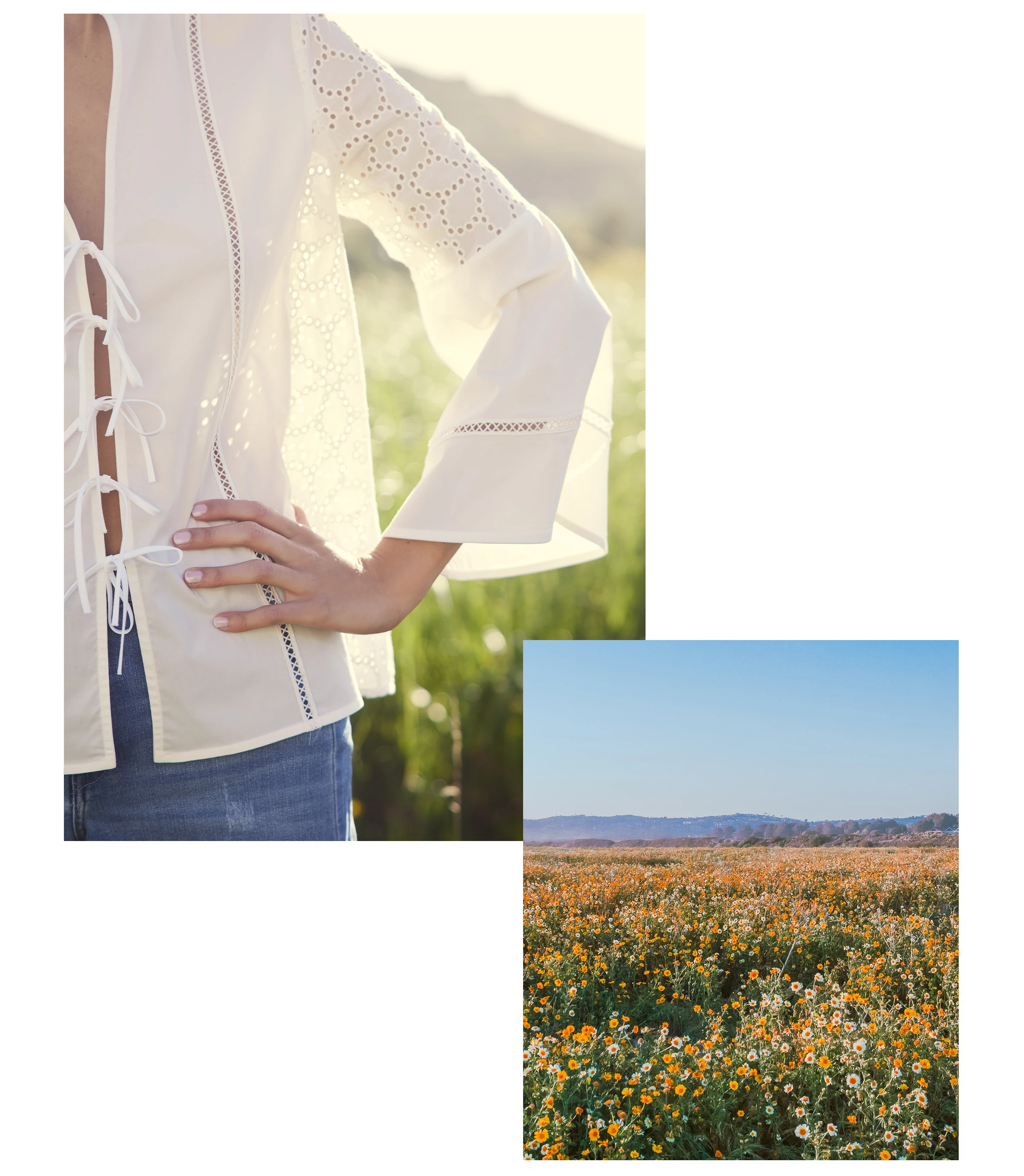 PRIORITIZING THE ENVIRONMENT
In addition to our sustainability commitment, we also believe that our environmental efforts go together with one another. It is our goal to continue to make meaningful progress and to ensure we remain diligent about our commitments to the planet and the future. We believe that we have a responsibility to serve our customers - and we believe that by addressing the issues and concerns facing the environment we can continue to improve and make meaningful progress.
Anne Fontaine and husband Ari Zlotkin are committed to living a more sustainable lifestyle – both personally and professionally. In 1998, Anne and Ari made the conscious decision to relocate the Anne Fontaine headquarters from Paris, France to Honfleur, Normandy – a region known for their organic farming. Committed to this path of a more sustainable future for their business and family – they decided to start an organic farm which produced 80% of their food, and drastically reduced their waste.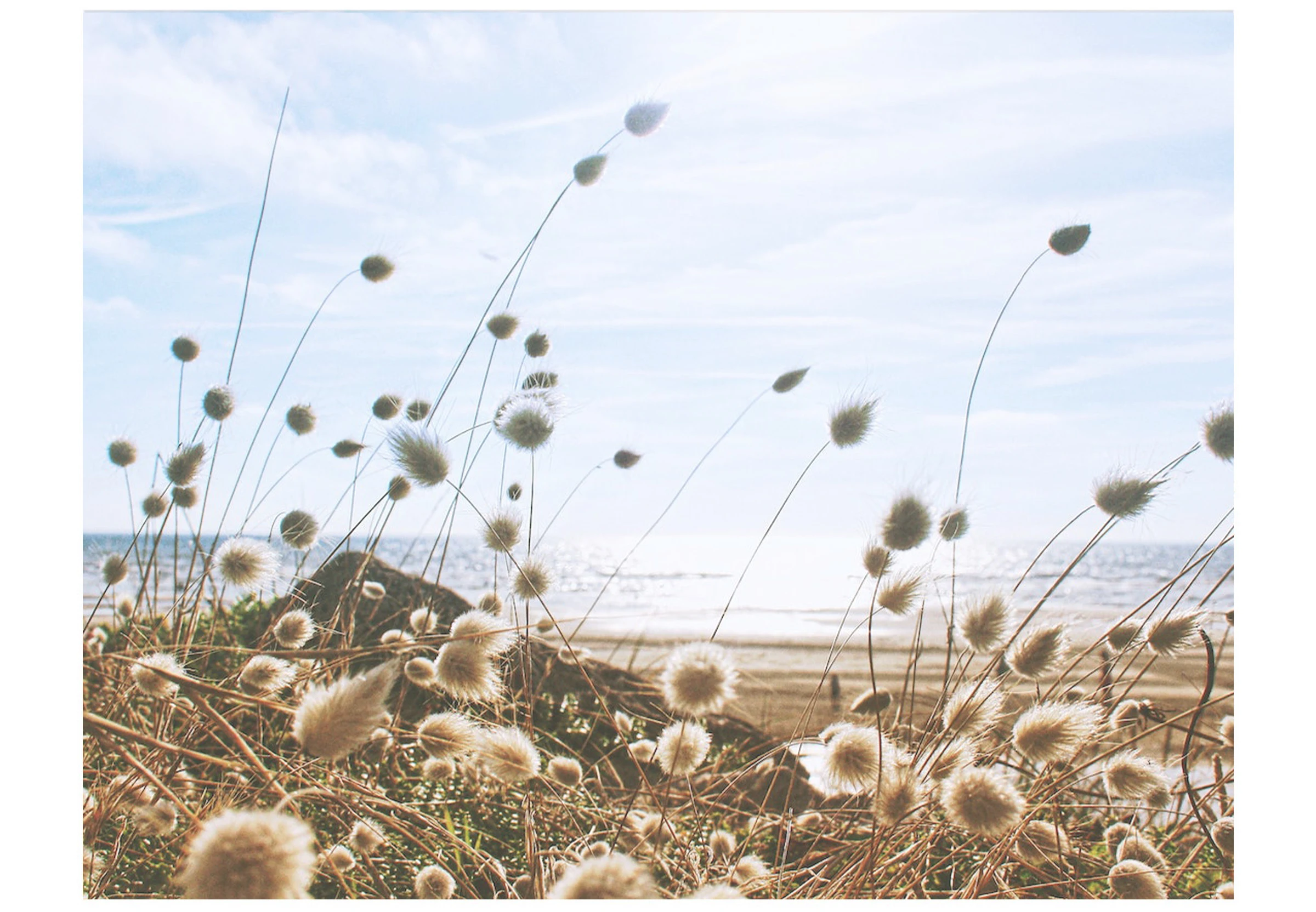 In 2011 Anne Fontaine's passion for the environment inspired her to establish the Anne Fontaine Foundation. Based in New York, this foundation focuses on the reforestation of Brazil's Mata Atlântica Forest and emphasizes the importance of education through organized workshops. To date, the Anne Fontaine Foundation has planted over 50,000 trees. Anne Fontaine continues to prioritize our partners and suppliers that share our vision and values – ensuring that we aim to reduce our contribution to climate change while supporting systemic changes.
With general awareness of sustainability practices increasing – we remain committed to our progress. Exciting new technologies have emerged that will create new processes that will allow us to improve our supply chain through several key initiatives including textile to textile recycling, regenerative agricultural practices, circular leather, vegetal leather and FSC certified fabrics. With the implementation of these critical initiatives, we anticipate furthering our environmental sustainability with more ambition than ever before.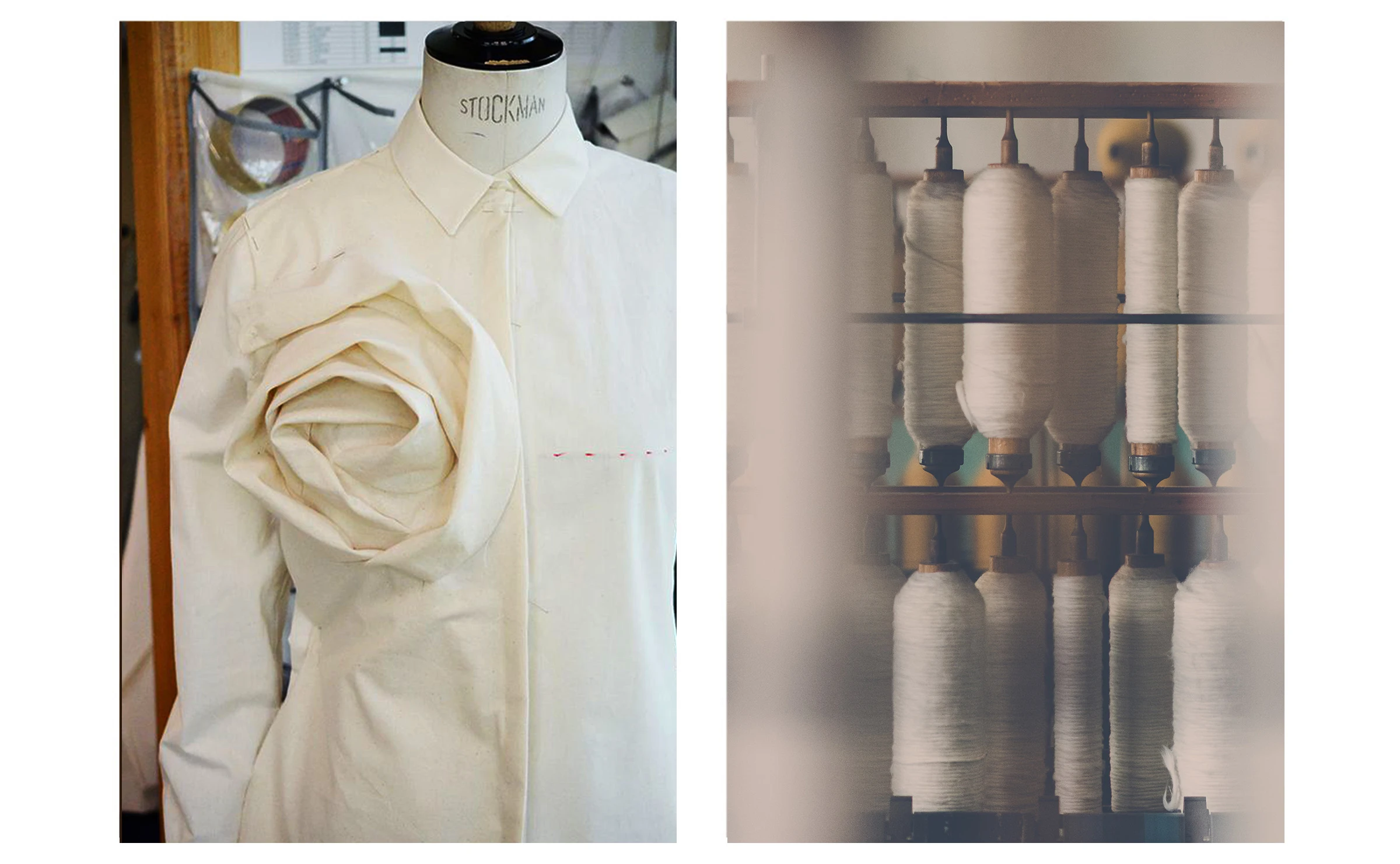 An intimate connection with the artisans and craftspeople who create our pieces is an essential ingredient in Anne Fontaine's ready-to-wear collection. Over the years, Anne has established a strong network of partners including small family run companies in France, Italy, Brazil, and India. These families have created specific techniques and specialties which are passed down generationally.
Every design of Anne's is made with a conscious understanding of our environment and the need to minimize waste. She uses reusable muslin fabrics to create her samples which are then used to create a true prototype - this process is crucial to Anne's design method.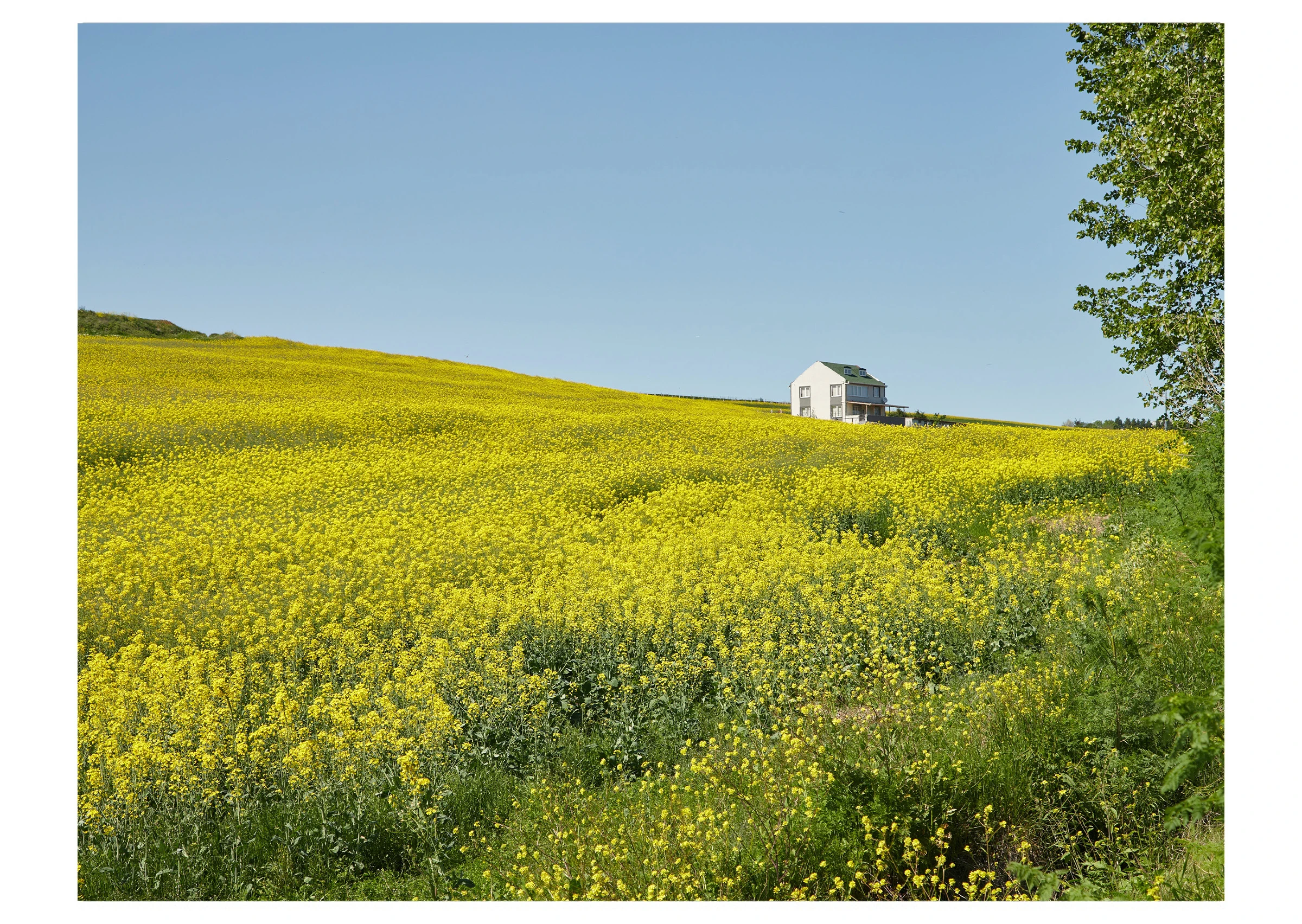 Anne Fontaine is committed to the respect of all human rights via ethical labor practices and commits to only working with companies to share these values. We are working hard to ensure that our brands are produced in factories that implement the highest standards of social responsibility, workers' well-being, and respect for their local communities.
We believe in transparency and the power of working together. We are actively engaged with partners to ensure the respect of workers' well-being, to maintain excellence in the creation of our line, or even simply to support the people who support us.