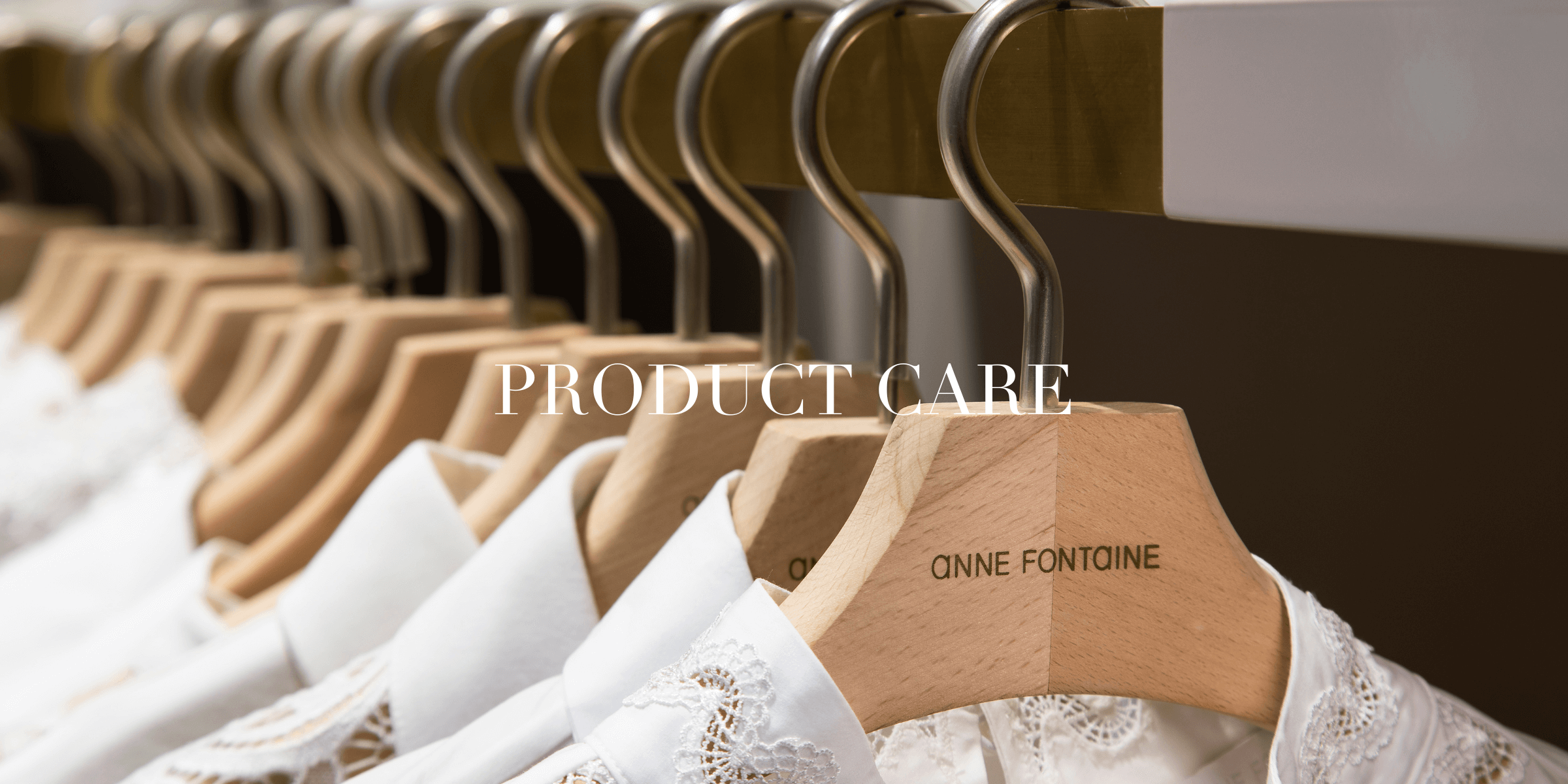 Add a touch of elegance to any outfit with our
well-crafted designs and fabrications.
When you're out, and about enjoying a range of lifestyle activities, our designs will keep you looking stylish no matter the season.
When it comes time to care for your ANNE FONTAINE pieces, we want to empower you with knowledge that can
help you prolong their life and ensure the best care and highest quality. Each item in our collection is labelled with specific care instructions that describe
how best to take care of them, as well as highlighting any other important considerations such as dry cleaning information or washing temperature limitations.
General Tips
Over the years, we have found that washing clothes correctly is the most important way to care for your favorite pieces. To ensure great life and avoid environmental impact, follow these tips.
Washing:
Hand wash your delicate clothing and accessories with care. To retain the elasticity and quality of your garments and to keep them looking their best, we recommend that you use cold water on a delicate or gentle cycle in your washing machine. When using your washing machine, it is best to use clear and mild detergent, preferably ones made from natural ingredients. Naturally whiten your shirts by adding a 1/2 cup of lemon juice to the final rinse.
Wash Bags:
Delicate items should be placed in an ANNE FONTAINE mesh washing bag to help prevent snagging or twisting during machine cycles. Turn your clothes inside out to maintain their color and quality. You may purchase our ANNE FONTAINE mesh washing bag here.
Air Dry:
Our garments are made of highest quality materials and crafted with great care. To ensure their longevity, please only wash your pieces when necessary in cold water with similar colors. Hang or dry flat only and do not tumble dry. This will keep your garments looking their best, extend their lifespan, and reduce wrinkles.
Storage & Protection:
Keeping your clothing in an environment that is free from moisture, dust and outside debris is the best way to preserve your wardrobe. Cedar provides a natural fragrance and eliminates the moisture from the air by acting as a natural dehumidifier. Lavender is the perfect way to freshen your garments and naturally protect your pieces.
Care Tag:
Each ANNE FONTAINE garment comes labeled with detailed washing instructions created specifically for maintaining the materials in your piece. These guidelines were designed specifically to maintain the delicate nature of the fabric and ensure that each garment is designed to last.